Summer 2022: Regular charter flights from London
During the 2022 summer season, Skylark Aviation is taking part in an innovative project of "virtual carrier" by arranging the chartering of an airliner on behalf of InzeeAir.
The purpose of the InzeeAir project is to offer new direct connections from London to regional airports in Normandy and the Champagne region. A new service that the local population has received with great enthusiasm. The InzeeAir project is supported by major French travel companies and local authorities.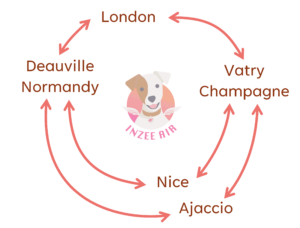 Take off from your region
Departing from a regional airport is easier, less stressful and contributes to the local economy. It also saves time, money and stress related to ground transfers, as small airports are easier to reach and more welcoming (less waiting time, free parking…).
The proximity of the airport, the short distances, the shorter waiting times at check-in, security or baggage claim and the direct connections are other advantages that make this new service attractive.
The offer to Vatry or Deauville is perfectly adapted to English travellers who wish to discover Champagne and Normandy for a weekend or for longer stays at comparable affordable prices.
The frequency of flights offered by InzeeAir is also interesting for owners of second homes who can go there throughout the summer for shorter or longer stays.
The flight service and the network offered are also attractive for business travelers. Thanks to the direct connections and 4 weekly flights from London, business travelers can avoid the fatigue and time wasted on connecting flights.
Domestic flights, the new challenge
Although low-cost airlines such as the Irish low-cost carrier with the golden harp offer many flights from the regions to southern European destinations, domestic flights, on the other hand, are often ignored. The reason for this lack of interest is purely economic. Low demand on certain routes makes it difficult to fill the 180- to 189-seat aircraft normally used by these airlines.
Yet the need is real. Today, travellers who want to go from London to small French cities usually have to make several connections at major congested airports and switch transport modes several times. Sometimes it's not even a question of convenience or simplicity, but of travel feasibility, when the easiest way to travel is by train, car or plane with hotel nights in between…..
The purpose of this project is to develop a new and innovative product which, thanks to the frequency and routes chosen, offers a quality service at prices that are much more affordable than other means of transport.
Skylark Aviation's expert charter solution
InzeeAir's project was supported by Skylark Aviation's involvement in providing an aircraft charter solution that was perfectly suited to the company's routes, while being economical, reliable and comfortable. The Dutch Fokker 100 was quickly selected as it is ideally suited to this niche market with its 100-seat cabin and offers attractive rates due to its cost effectiveness.
From 26 May 2022, UK travelers will be able to enjoy direct flights to Normandy and Champagne at competitive fares. To make a booking, click here
If you are a travel agency or a tour operator, we are at your disposal for any question. If you prefer to have direct access to the booking engine, InzeeAir offers you direct connection to its portal dedicated to tourism professionals.
---
Skylark Aviation Expert is a consultancy company specializing in the implementation of transportation plans using chartered aircraft. Thanks to its high level of expertise, its teams offer you the best solutions for chartering and renting aircraft, anywhere in the world and under the best safety conditions.